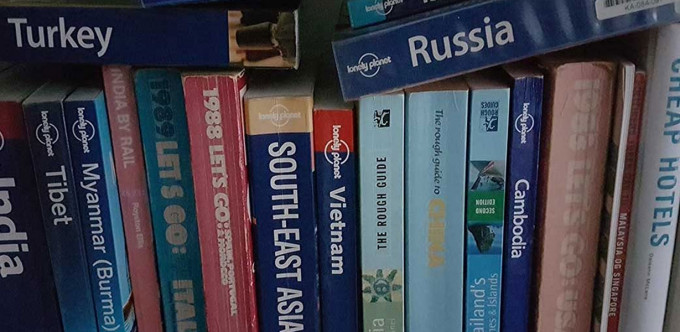 Travel books - are they still relevant ?
Monday, June 10, 2019 11:47 PM by Jens
Travel books was the answer before the internet !
I remember travelling before the internet.

No on-line booking, no Tripadvisor to check on fellow travelers experiences and no Skype to make a cheap phone call.

Some might say – but how was it even possible to travel back then !

The answer was books – Lets Go, Lonely Planet, Rough Guides and Fodors guides to name just a few !

Filled with professional travelers advice and information on what to do and see. Thrown into the backpack after careful studies before the trip and after weeks or months in your hand placed on your shelf back home – with curly pages and a cover worn by sun, sand, sweat and rain.

Back then a fellow traveler was easily spotted – you just had to look for the book in the hand or on the cafe table.
But do you still use travel books ?
My answer is definitely yes !

I really enjoy using the book guides when planning a trip. Instead of jumping and skipping on the internet the travel books offer a more comprehensive picture of what you can see, how you get there and get around – it really makes a big difference that the content is written by professionals. An added bonus is that you get it all in one package. You are guided in the words best meaning.

On the go the travel book is truly offline. Even thou access to the internet is pervasive – you sometimes find yourself offline and the book comes to the rescue. Its just there ! And when the elements is technology unfriendly – the sun makes it impossible to see your screen, the sand doesn't budge with your phone or phones are not admitted – the book is still there ! Especially when visiting museums, churches or other places where you need the story of what you see – i bring my book(s).
Get your travel books at great prices or for free

I buy my travel books used – for my purpose its good enough – and the savings are great.

One of my favourite places to buy used travel books is Alibris – either at Alibris UK or Alibris US.

They have the greatest selection and if you can live with a guide book that is 2 years old – you get at least 75% off the retail price of the latest edition.

For travel e-books you will have to resort to buying a license to use the book. If you are travelling a lot or read a ton of books – also while travelling – a subscription based service can be a bargain. I use the Amazon kindleunlimited and Bookmate. Among the free books on Amazon eligible for Kindle Unlimited are all of the Lonely Planet guides – at only 10 USD per month ! That's a bargain – and you can even try it 30 days for free ! Bookmate has the selection of all the Rough guides – and to me its free ! It's part of my wife's phone subscription.
In Denmark the public libraries have and e-book service in both Danish and English. If you are a Danish resident, get a code at your local library and bring along a whole library of travel books for free !
Try it
I urge you to try a book next time you wander off. Enjoy the wholesomeness and professional travel writing.
Maybee you will have a physical book in your luggage next time you take off. I will surely be looking for you - with the book in hand - out there.